The Ritz-Carlton Spa by ESPA
From the moment guests enter The Ritz-Carlton, Hong Kong, they will understand that a thrilling, multi-sensory adventure awaits them not only in the city outside, but inside our 5-star Kowloon hotel located 490 meters in the air.

"Horse Galloping Across the Sky," a stunning masterpiece by Chinese artist Yuanming He provides the first clue to those meandering through our ground floor entrance that a dynamic environment buzzes and hums above in our luxury hotel located in the acclaimed International Commerce Centre. There, on the top floors of the building known as "The Dragon Tail" for its scale-like, overlapping shingle façade, guests sip Afternoon Tea in The Lounge and Bar, dance to thumping music mixed by local DJs at OZONE, savour refined Cantonese and Italian cuisines in our celebrated restaurants, relax in The Ritz-Carlton Spa®by ESPA, rated a "Five-Star Spa" by Forbes Travel Guide 2014, and return to their opulent guest rooms to reflect on their days spent exploring. From above, guests can survey the magnificent vista unseen by those staying in any other luxury hotels in Hong Kong, and realise that The Ritz-Carlton, Hong Kong is a place unlike any other.

Refresh your body, mind, and spirit within our Kowloon hotel spa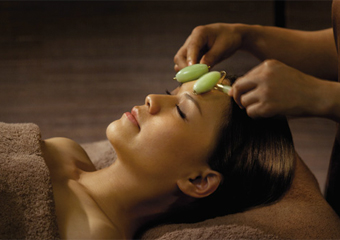 Our collection of Signature Treatments have been created by ESPA using East meets West therapies incorporating indigenous healing Lava Shell, Jade and Chinese massage techniques to give a truly unique and tailored experience.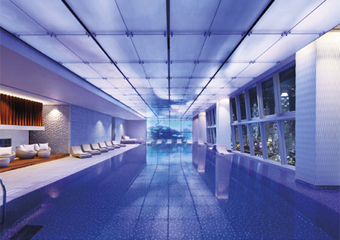 The Ritz-Carlton, Hong Kong features an indoor infinity swimming pool with breathtaking views of Hong Kong skyline, a ceiling mounted LED screen as well as an outdoor whirlpool.
Soaring above the island of Kowloon and overlooking Victoria Harbour, The Ritz-Carlton Spa by ESPA redefines luxury and indulgence. Featuring nine lavish treatment rooms and two couples' suites, our idyllic hotel spa boasts floor-to-ceiling windows with panoramic views of Hong Kong, and is perfect for spa celebrations.

Pamper yourself with one of our soothing, restorative facial treatments, incorporating traditional Asian therapeutic healing methods. Smooth and exfoliate your skin with a lava shell body treatment, or join your partner in the private couples' suite for a relaxing therapeutic Hong Kong massage as part of a romantic spa getaway.

Imagine a relaxing respite in the vibrant heart of Hong Kong, where the stresses of daily life melt away and your well-being is our only concern.

At The Ritz-Carlton Spa by ESPA, our Hong Kong day spa, this reverie becomes a reality. Reinvigorate your mind, body and soul, here at one of the most distinctive day spas in Hong Kong, located amongst clouds atop the International Commerce Centre. An array of restorative spa massage, facial, and beauty treatments will provide a private moment of indulgence and relief from the world below.

Spa Features
-Nine deluxe treatment rooms, with six offering floor-to-ceiling harbor views
-Two private couples' suites with enchanting harbor views, perfect for celebrations and weekend getaway
-Relaxation lounges with separate areas for male and female guests to relax and unwind before and after their treatments
-Heat and water facilities for male and female spa guests, both featuring steam, saunas and experience showers


使用プロダクト