The Spa at The Miami Beach EDITION
Encompassing a 3.5-acre enclave that stretches from Collins Avenue to the ocean shoreline, our Miami hotel combines elegantly designed structures, spaces and settings to create a re-imagined resort for a new generation. Whether you're here to relax or work, we've given thought to every aspect of your stay, from the light oak-paneled walls in guest rooms and suites to the sheer variety of food and drinks at Market at EDITION.
Vibrant living with local flair
Our signature line for massage is Elemental Herbology, which are designed to treat the skin from the inside out, restoring equilibrium and harmonizing the mind and body inspired by the Five Element Theory.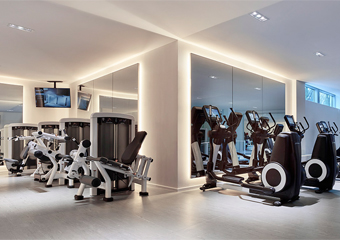 The GYM features natural light, state-of-the-art strength training, weight and cardio equipment and direct access to outdoor classes including yoga and beach boot camp. Group and personalized training sessions are available upon request.
Whether you had a late night out, a long afternoon in the sun or an all-day meeting, The Spa at The Miami Beach EDITION offers a wide range of services to help soothe and relax. We offer guests a wide range of services in a soothing, relaxing environment. The luxury spa features nine private treatment rooms including a custom Hammam room, and a detox room with a steam shower and far-infrared sauna, a Beauty Lounge for nail, hair and makeup services, spacious locker rooms with a steam room, and a spa shop retail featuring "best of products" and beach/ loungewear. A central relaxation area with custom-designed daybeds is surrounded by drapery and vintage Moroccan rugs. The Resort also offers a state-of-the-art 24-hour GYM with the latest in strength-training, weight and cardio equipment and rooms for group or personalized trainings sessions.

Spa guests are invited to relax, reflect and rest in their choice of diverse ambiences and seating options that span solo, social and sleep; encouraging private time, interaction and deep rest. Top off your luxury spa experience in Miami Beach with The Relaxation Lounge menu of "quick fixes" designed to counter the stresses of life and travel: from aromatherapy inhalation to a power nap meant to simulate four hours of restful sleep—designed to counter the stresses of life and travel.

EDITION Spas embody vibrant living by bringing to each location internationally inspired healing practices with a local flare. Showcasing the best wellness treatments and beauty services, The EDITION Spa blends timeless philosophies with innovative techniques and emerging trends. Our intentionally streamlined menu is edited to respect your time and intelligence while providing meaningful choices.
Should you want more information on any of our service offerings, please consult the online menu or contact our spa experts for more details.


使用プロダクト