The Ritz-Carlton Spa
Guided by the symphony of the sun, guests of The Ritz-Carlton, Sarasota are entranced by its cadence – the promise of new discoveries every sunrise suggests and the enveloping contentment every sunset imparts. From our Florida resort's perch in downtown Sarasota, neither discovery nor contentment are far from reach, whether it is the rich, artistic uniqueness that surrounds this Florida Gulf Coast retreat or the sandy, white beaches that indulge the desire to relax. Take time to explore the city's fine dining, museums, art galleries and performance venues. Spend moments, too, savoring the tranquil coastal lifestyle, particularly as the sun descends. As you find yourself entranced by this magical moment, watch as the sky paints a colorful canvas of orange, pinks and purples, and possibly even a flash of green, signifying the moment when the setting sun kisses the water goodnight.
Award-winning Sarasota Spa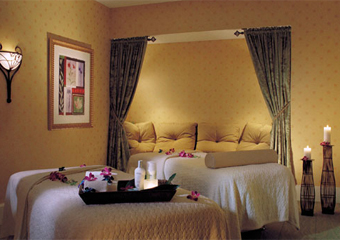 Couples can reconnect together in a romantic setting of rose petals, candles and soft music.
The Spa at The Ritz-Carlton, Sarasota offers a complete range of services for body, mind and spirit.
Discover one of the most luxurious spas in Sarasota where a personalized, unique wellness ritual awaits. The Spa & Salon at The Ritz-Carlton, Sarasota features treatment rooms, saunas, steam rooms, whirlpools and relaxation lounges to ensure the ultimate relaxation experience.

Discover an opulent oasis where cares melt away as nurturing hearts and hands revive your soul. At the Spa and Salon you will experience gracious service, delivered by expert professionals using only the finest, indigenous ingredients.

The Ritz-Carlton Spa, Sarasota offers more than 100 wellness and anti-aging treatments using the beneficial properties of ocean minerals, elixirs and essential oils to restore, rejuvenate and refresh the body, and enhance circulation and energy flow, leaving guests rebalanced.

Using only natural and organic ingredients in the Spa, the menu reflects a variety of traditional products such as hydrotherapy and mud masques, alongside innovative, non-traditional treatments.


使用プロダクト